Joined

Jan 23, 2009
Messages

3,035
Location
(Allow me to preface this post with the comment that it has been copied in its entirety from my Facebook page and includes some information that most people who are familiar with firearms might consider unnecessary. That being said, on with the show...)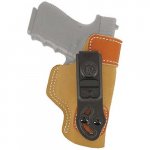 So after much internal debate I decided to drop a few bucks on a new CC holster in a style I have been curious about but never tried - IWB. For those who are not familiar with handgun vernacular, IWB means "inside the waistband" which means the holster is worn tucked into the pants instead of worn on the belt exposed/outside (OWB).
Those individuals who know me pretty well know that I am a proponent of Open Carry which, in Virginia, is not a regulated act and does not require a permit. "Open carry" means wearing a firearm in a manner in which it is not commonly hidden from observation nor its character disguised in any way. In other words, people KNOW you are carrying a firearm.
I am not going to get into the politics of which mode of carry is better or why I choose one over the other. My purpose here today is to give a comprehensive review of the product I purchased.
I bought this holster through an online vendor (
www.opticsplanet.com
) whom I have shopped with before. After comparing a few other sites I found that between their price (slightly higher) combined with shipping costs (free after adding one item I also needed) I was getting the better deal at Optics Planet. I paid $21 for this holster and $12 for some Hoppes #9 lubricant and cleaner. This brought my total to $32. No tax. Free shipping.
On to the review.
In the package was the holster, an allen wrench and an instruction card. The holster is constructed of suede leather double-stitched and bounded on the upper release with a cuff of tanned leather. The belt clip is a plastic/polymer on a swivel with metal allen screws and metal under-clip. I'll explain: with an IWB holster the clip goes OVER the top of the pant at the waistband and UNDER the belt. It has a slight "J" at the end which would secure it under a belt and prevent the entire holster from being drawn in the event that you have to deploy your sidearm. I selected this particular holster largely because many other holster had a plastic clip.
My Glock 19 fit very snugly into the holster and truly took some persuading to get it seated all the way into the bottom. The leather cuff at the top was not well formed to the slide, but both of these concerns appear to be satisfied through continued use. Since I do not have much experience with IWB it was awkward for me to get the holster properly on the waistband and under my belt with my pants all the way on. The product literature shows most users carrying on their front side, but I prefer SOB (small-of-back) for conceal carry. Again, this is all personal preference.
Because the Glock 19 is not a overly "covert" sidearm like, say, a Walther PPK or Beretta Px4 it is generally uncomfortable in full-upright carry IWB. I had to adjust the cant (angle) of the holster using the allen wrench and two adjusting screws at the holster base. This was an easy task, but I had to execute it three times before I found a cant which did not make me feel like I was sitting on my sidearm the whole time. Consequently the angle I found most comfortable IWB is almost exactly the same as the OWB conceal holster I frequently wear (Blackhawk Check-Six) which has an almost crossdraw platform.
When I OC I carry FBI cant, which is about 15° towards front.
I feel that I have fairly good coverage and access to my sidearm with this holster. Once I wore it for an evening (including performing with a rock band, engineering sound and even visits to the bathroom) the holster held up and did not encumber my range of motion too terribly. It does ride a little high on the waist and as a result the butt of the grip tended to dig into the bottom of the ribcage above my lower back. The leather is pretty soft but I noticed a slight bruise on my right buttock about an inch off of my tailbone from where it had been stressed against my jeans when I sat down.
The last thing I would say about this holster is that it is a true "tuckable" holster in that you can wear a regular shirt over it instead of having to billow or wear an untucked shirt over it. The belt clip is only attached at the base so a shirt can be tucked between the holster and the clip, leaving only the "J" clip visible where it comes under the belt.
I would give this holster the following marks:
construction: A
comfort: C
ease of use: B
value for dollar: B
overall: B
I hope this review has been helpful.