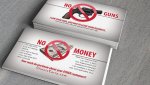 Concealed carry is closer everyday, except in numerous gun free zones. Private business owners have a protected right to refuse our concealed weapons into their establishments. Many organizations have printed informational cards to present to such business owners.
I have seen dozens of designs, and none of which impressed me much. The message is solid, but presentation is lackluster. I feel many of these are discarded without a thought, I want to change this.
I have enlisted the help of a graphic artist to design a more professional design to fit this purpose. While many cards will be tossed regardless, I hope a more professional design may get a second look and deliver the message with seriousness.
I am looking to gauge any interest in these cards, and am looking to order another batch. My first two batches were sold to IllinoisCarry.com members, and am looking to get as many into the hands of future Illinois CCW holders as possible.
Unfortunately, graphic design is not free, nor is professionally printing, double sided, full color, full UV business cards. I plan to make the investment for personal use, but if enough support surfaces I will order a higher quantity of cards to distribute (at a small fee).
If the community speaks up, we can make a statement to misinformed private business here in Illinois.
Text on cards is as follows:
Front: I saw your sign, and had to leave your business. Turn over to learn why you should remove your sign.
Back: Your sign turns away law abiding citizens. Your sign is bad for your business. Your sign does NOT deter criminals. State law requires that: I am NOT a felon, I am fingerprinted and background checked, I am certified in firearm use, and applicable laws. How much do you know about your OTHER customers? IllinoisCarry.com
If you are interested in obtaining some cards PM me. Final cost will be determined by the quantity of cards that are ordered. My last order had a cost of:
100 - $18
250 - $30
500 - $48
These prices include shipping within the US. Actual prices will not exceed those mentioned above. Cards are expected in by the end of next week. Message me if interested!